Description
1/4 oz. LAST Stylus Cleaner with  in-cap cleaning brush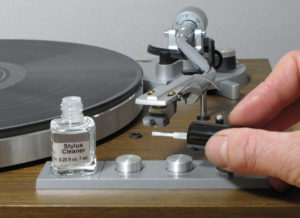 LAST Stylus Cleaner removes even the toughest deposits. This protects your stylus and records from abrasion damage caused by dirt that has adhered to the stylus tip. Clean the stylus before each record play, or anytime you hear distortion or mis-tracking.
LAST Stylus Cleaner:
Completely cleans the stylus
Reduces noise and distortion
Removes accumulated deposits and particles
Completely safe for all cartridge assemblies.
After cleaning with LAST Stylus Cleaner, protect your stylus with STYLAST Stylus Treatment!
LAST Stylus Cleaner does not spoil, but keep the cap fastened tightly to prevent evaporation.