Description
3.4oz. LAST Power Cleaner & 3 microfiber applicators
Great for brand new records. Removes all manufacturing residues.
Last Power Cleaner is specifically designed to remove pressing residues and contaminants left over from the manufacturing process. These sticky residues are tightly bound to the groove wall and attract and hold dirt and debris that cannot be removed by the usual water or water/alcohol mix record cleaner.
LAST Power Cleaner is: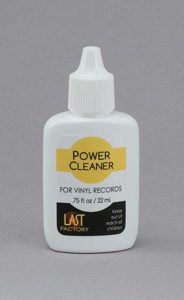 Best for removing mold release compounds and pressing residues from new vinyl (33 rpm and 45 rpm)
An excellent deep cleaner for new and used records. Guaranteed to remove surface contaminants such as dust particles, finger oils, salts and dirt from handling, as well as residues from other record cleaners.


Recommended by Stereophile magazine
LAST Power Cleaner reduces noise, distortion and record wear. It removes all record surface contaminants. It is recommended for use with LAST Record Preservative. It leaves absolutely no residue. Keep the cap fastened tightly to prevent evaporation, and the fluid will not "spoil" or lose effectiveness.
LAST Power Cleaner is:
Easy to use and apply (only 3 drops per record side)

Environmentally friendly

Completely safe for vinyl records of types 33 rpm and 45 rpm*
*Not recommended for vinyl 78 rpm records because some 78's are made with shellac that is not compatible with the cleaners in Power Cleaner.